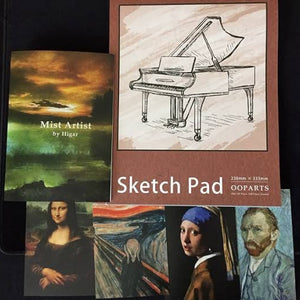 Mist Artist
Higar's Latest Creation, this incredible trick sold out the first day at Blackpool Magic Convention 2019!!
In this dazzling effect a m

agician shows cards with famous paintings and asks the spectator to choose one painting.





Now the magician sprays the mist onto the sketchbook…. How amazing that… The chosen painting magically drawn by the mist! 
・The Sketchpad is specially coated. It is a blank, then when it is sprayed, the painting appears.
・Once it's dried out, the painting turns into invisible condition. It can be used repeatedly.

・Sketchpad is made of water-resistant material. 
・Postcards of the art image are easy to force. 
---
We Also Recommend