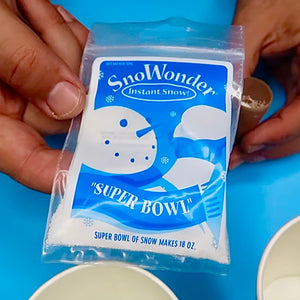 Magic Snow Powder
SnoWonder is an extremely realistic artificial snow that can be used for parties, displays, holidays, hobbies, and all kinds of fun! SnoWonder powder is a patented, safe and non-toxic polymer developed specifically to imitate most of the properties of snow. It will not melt or blow away, and can be used on almost any surface, indoors or outside.

Once mixed, SnoWonder lasts for months and can be reused to make "snow" again and again!

None of the previously marketed forms of artificial snow give the true visual magic and wet feel of natural snow. For any purpose that demands the best and the closest possible imitation of the real thing, SnoWonder is the answer.

Makes 18 oz. of snow!
---
We Also Recommend