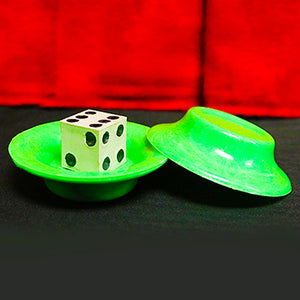 Magic UFO Shrinking Dice Trick
An out-of-this-world dice magic trick anyone can do!  Show a "UFO" device to your audience - it appears to be two small plastic saucers placed together.  Pull them apart so a single dice or "die" can be seen inside.  Explain that the UFO does strange things since it was in outer space.  Place the saucers together, and when opened again, the dice has magically shrunk to one third its previous size!  Place the saucers together again, and state the dice can even penetrate solid thru solid!  Open your hand, and there's the dice, but it's now shrunk even smaller!  Pull the saucers apart to discover they are now empty!  Simply astonishing!
Fun to do, and amazing to watch!

VERY easy to perform!

Comes with complete kit of everything you need to start performing instantly!
---
We Also Recommend