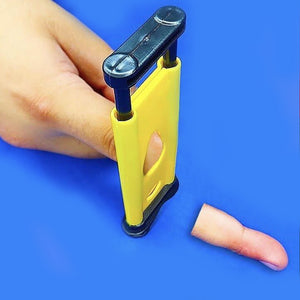 Magic Prank Finger Chopper
The ultimate prank illusion for Halloween!  Freak out your friends and family with this harmless magic prank, perfectly sized to pack in your pocket for trick or treating :) have your volunteer insert their finger through the opening on the chopper and watch as the metal blade magically passes through their finger without them feeling a thing!  
No real danger involved thanks to the ingenious design of The Magic Finger Chopper (flattened and dull metal blade automatically hides inside unit when pressed down).  Completely self-working magic; this trick is a great way for younger kids to build confidence as a performer, as its very easy to do and always gets a fun reaction!  
Order yours today in time for Halloween!
---
We Also Recommend