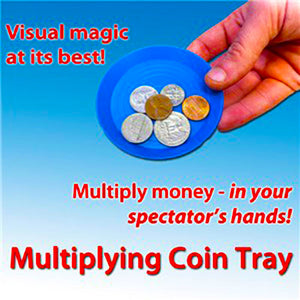 Magic Multiplying Coin Tray
Making change was never so easy!  As seen on How To Magic, this Magic Coin Tray is the perfect addition to any magician's arsenal of tricks!
With this clever prop, the magician can multiply the number of coins in a spectator's hand with no sleight of hand whatsoever!  Simply slide the coins off the tray and the work is done!  It's that easy!
Add gimmicked coins or ordinary change to coins already on the tray.
Magically multiply coins in the most visual way!
Easy to Perform for Beginners!
Totally Self-Working and Self-Contained Gimmick
Get yours today!
---
We Also Recommend