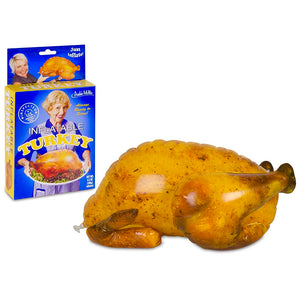 Inflatable Turkey
This Inflatable Turkey looks so delicious you can almost smell the stuffing.  But keep the carving knives away, because this bird is strictly for show.  
Each 16" (40.6 cm) long, vinyl turkey is perfect for staging your Thanksgiving table while the real turkey is roasting, batting around on a sunny day at the beach, or pranking your family this holiday!
Great gag gift

No calories

Great for any holiday
Comes deflated in a 4-1/4" x 2-3/4" x 2-7/8" (10.8 cm x 7 cm x 7.3 cm) illustrated metal tin.
---
We Also Recommend