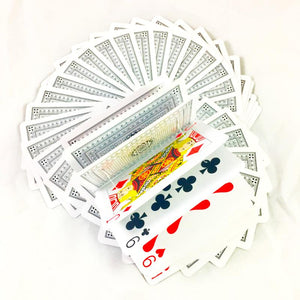 Magic Electric Deck Trick
Performing STUNNING flourishes with a pack of playing cards that no human could possibly do.  All with zero practice whatsoever :) 
This special trick deck of cards is connected with tiny strings, enabling you to perform amazing card illusions like a seasoned professional!  Perfect for beginners and magicians of all ages and skill levels!
Appear to be a world-class card flourisher with The Electric Deck!  While it looks ungimmicked, this special deck gives the illusion of mastered cardistry.  Your audience will think you practiced these incredible moves for years!  Fun and easy to do!
Check out the video below for a performance and explanation of the trick!
(Please Note:  Product packaging may vary!  The Elevator Deck, The Electric Deck, and The Waterfall Deck are all the exact same amazing deck of cards, just in different boxes!)
---
We Also Recommend