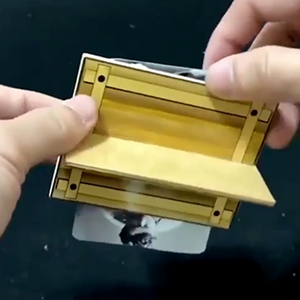 Houdini Mini Illusion
A pocket-size version of a classic stage magic illusion!  The magician inserts a paper model of a shiny metal blade into the gap of the cardboard platform... the magician then visually thrusts a photo of Harry Houdini through the solid metal blade!  The audience can actually see the photograph pass through the paper knife directly! But the photo and blade are both found to be free of any gaps or holes!  After the performance, all objects can be handed to the spectators to be checked!  Amazing magic anyone can do!  The magic of Houdini lives on forever!
Props include:
Special secret props
Houdini photograph
Paper stage blade
Paper saw table stand
Get yours today!
---
We Also Recommend