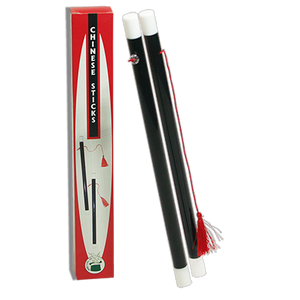 Magic Chinese Sticks
The Chinese Sticks Illusion is a true cornerstone of magic; a timeless classic.  Easy to do and suits any kind of performance; they're the perfect tools to add to your magic kit!
Requires no skill!  If you can hold a deck of cards you can start amazing your friends in minutes!  You won't believe how easy it is to learn!
Perform close-up, on stage, or surrounded on the street!  Looks like real magic!
Resets instantly!  Perform it over and over again!  If taken care of properly the props will last for years and years of magical performances and wizardry!
The Chinese Sticks Trick will have your audience believing the wands & tassels are somehow connected in an impossible way!  A beautiful illusion you can master with very little practice!  Perfect for beginners!
EASY magic anyone can do!  Get yours today! :)
---
We Also Recommend