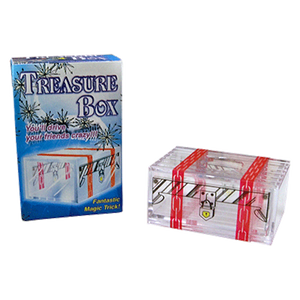 Magic Treasure Box
The magician borrows a spectator's object, placing it in the Treasure box.  When members of the audience are asked to open and retake the object, they cannot figure out the secret to opening it!  No one but the magician is able to open it and retrieve the treasure inside!  Also the best way to present a ca$h gift for the holidays; they can see it through the box but have to figure out the puzzle in order to receive their gift!

You can use coins, bank notes, rings or any other objects that you like!

The perfect gift to drive your friends and family crazy!

Comes complete with Treasure Box and full instruction sheet!
---
We Also Recommend