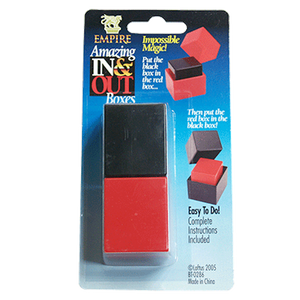 Impossible In and Out Box
Put the black box in the red box. Then put the red box in the black box!  A trick that defies logic and boggles minds!  The magician presents a black box which is then opened to show a smaller red box inside... the red box is the opened up... a magical gesture is made and now the larger black box seems to fit inside the smaller red box!  Impossible!
Totally self-working with no sleight of hand required!  A perfect pocket trick to carry around.  Makes a great stocking stuffer gift for the holidays.
---
We Also Recommend